Just like humans have hair, pets have their own hair.We love nature, and we love our pets even more when we spend the long nights with them. They don't talk, but when they look at you with their bright eyes, you can't help but want to give them all the best things in the world.That's why we humans spend so much money taking our pet friends to beauty salons for grooming and treatment.Beautiful hair on pets is not just a way to make them look good, it's also a way to make them feel comfortable.And shaving them at the right time has become one of our hobbies. Best pet clippers allow you to trim your pet's coat so that he remains comfortable without all that fur getting in the way.
Of course doggy deserve to look good too, but aside from the looks, our canine companions deserve to feel good and comfortable. Unlike other pet clippers in the market, based on the principle of acoustical, Oneisall has launched a new version of pet clippers, which allows they get more comforts while having their hairs cut. And in this package, we split it into two sections for simplicity.
First of all, we'll talk about what kind of dog clipper you need, and then we'll show you some of the best dog scissor clipper on the market.After that, we'll give you some simple instructions to start using them yourself, and you'll be on your way to getting the best pet scissors.
Our recommendations:
It's a comparing chart to introduce the differences among the clippers in this new version for your reference.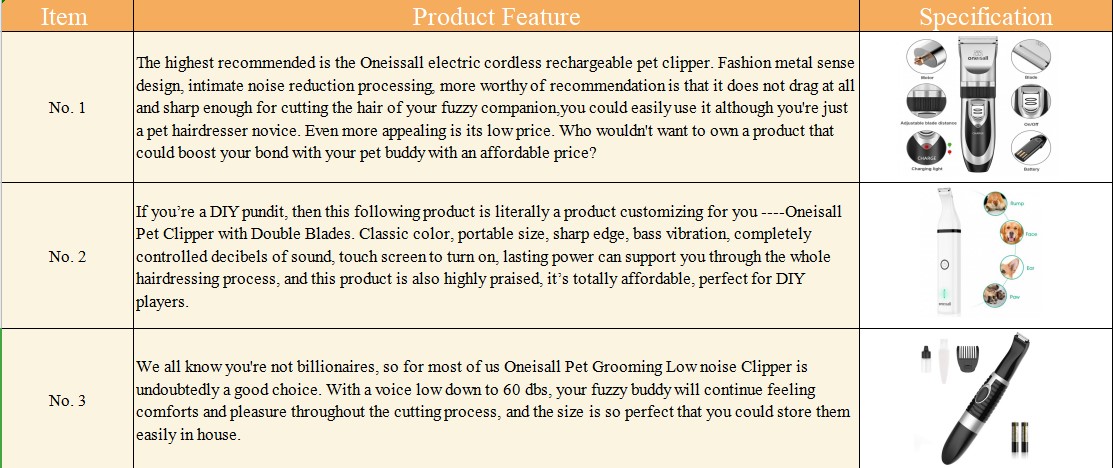 Okay, in this section, we'll talk about the differences among these three series of clippers above.
No. 1( Click here to buy )
Our Oneissall electric cordless rechargeable pet clipper, which is the best-selling clippers among all product this season !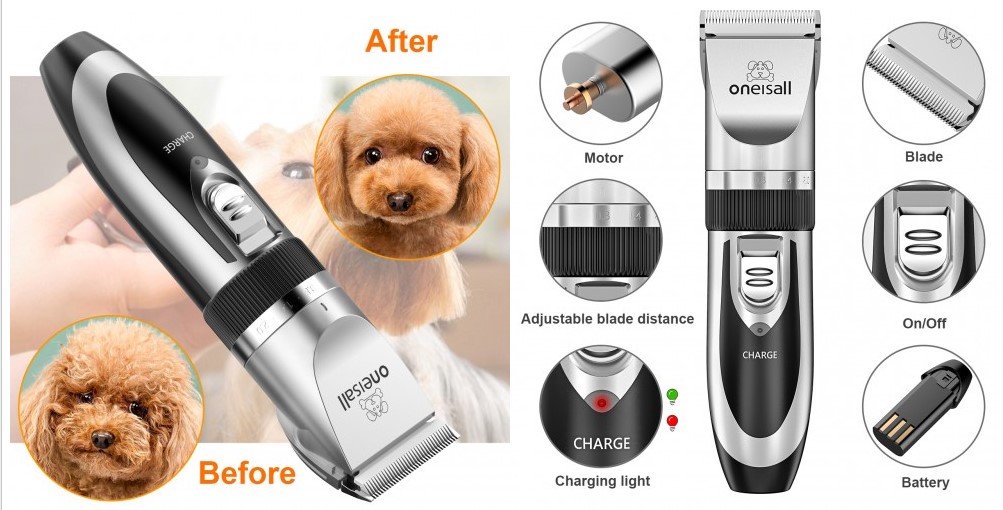 After a lot of experimentation and careful selection, based on the use of acoustic principles we finally made out this unique version of clippers on the market with low voice but cordless design.
Though we're a young team, we always believe and do our best to bring our customers with the products of a highest possible quality at a lowest possible price. And live up to expectations, this product is also deeply favored by our consumers. It build tough enough, looks good. Starter kit include most of reliable groomer's things like scissors, comb from stainless steel, guide guards and bottle of oil.
The dog clipper's noise is only about 50 dB, ensure your pet is comfortable throughout grooming process. Your pet won't afraid process of cutting hair any more.
These dog shears are suitable for pretty much any dog's coat, allowing you to easily buzz down even the thickest fur, but if your dog's hair is very long, at first use scissors, than finish with clipper.
Product conclusion
If you're looking for a cheap, reliable clipper this offering from oneisall is a great device for you and your dog.
No. 2 ( Click here to buy )
Next one is our second best-selling clippers----Oneisall Pet Clipper with Double Blades.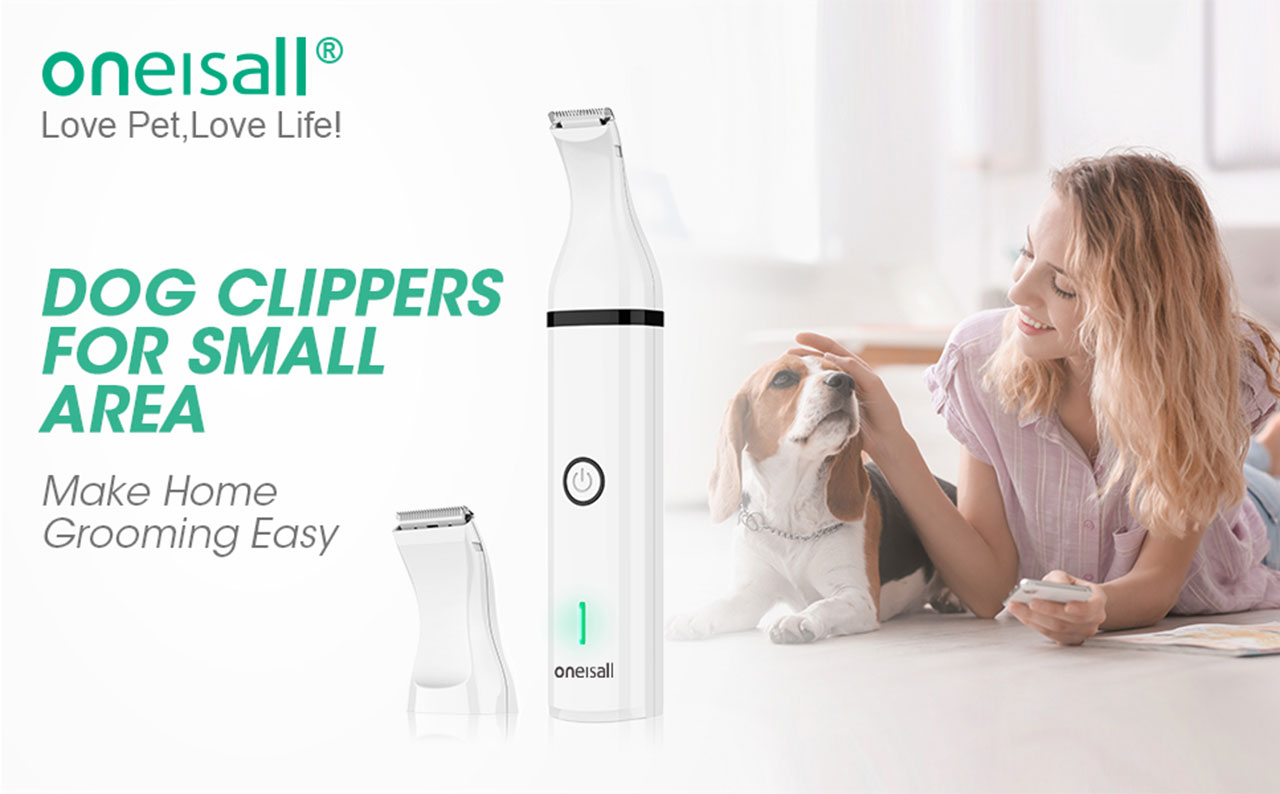 With Quiet and Low Vibration Design, it's built on Li-ion battery, which could extend the lasting period of battery, you don't need to worry about using time any more. And the Upgrade stainless steel fixed blade can provide excellent cutting performance. Works great for trimming small areas like paws,ears and eyes.
Dog and cat owners love this kind of quiet, comfortable clippers. Even with thick, curly coats and undercoats, our customers find them easy to use without getting bitten or struck. It's simply making a difficult grooming process faster and more efficient. In fact, even the professionals were surprised by the quality of these clippers because of their low price. Don't doubt them, because they're still making a name for themselves, and all the comments about them are speaking for themselves.
No. 3 ( Click here to buy )
For the third one, we recommended Oneisall Pet Grooming Low noise Clipper.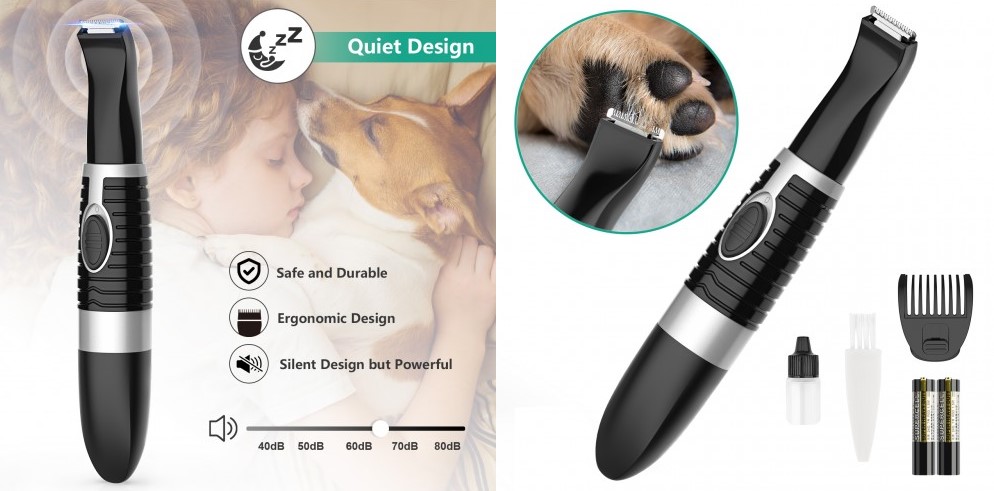 This grooming set comes with a great clippers at a budget price.You can get everything you need right at home, including the clipper using guideline and combing things before you start.Even better, you'll get a comb and two AA rated batteries.It's really nice and friendly for the ones without too much budget.
With a really fast speed, but they are not the best clippers for the pets owning really long, heavy coats, so if you have a pet with long hair, we recommend these two products above. However, for small to medium sized pets, they won the best name among them.
The clippers are also very light, which is a plus point for most beginners.
Even if you decided to go through with our recommendation, we also would like to share the basic knowledge of grooming with you all.
Before giving your pooch a haircut, give your furry pet a bath and a good brush to effectively take the pain out of grooming.If you think about it, whenever you go for a haircut, your stylist will first wash your head carefully in a sink and smooth your hair.Do the same with your dog.In addition, grooming your dog ahead of time will help smooth out unruly hair and remove unwanted hair ahead of time, making it easier for your dog to trim.
Use the right tools
You need a pair of clippers, a comb and a brush. Professional groomers will always offer these tools, but they will charge you more than you would if you bought them directly from a store.Save your money! You can buy clippers, blades, combs and brushes at any pet store; From the pet shop to the little boutique on the corner.When you buy pet clippers, razor blades, nail clippers, and combs, do your research.When you're standing in the aisle of a pet store, there are so many different kinds of tools that can overwhelm you.To eliminate confusion and buyer hesitation, you can discuss online or with a groomers which tool meets your needs .Keep in mind that stainless steel, while a little more expensive, will last longer, will not rust, and provides one of the strongest and cleanest cuts for your pet's fur.
The quieter the better
Depending on your dog, you may find that loud noises can make your dog upset or even distressed in your daily interactions.Therefore, it is a good idea to make sure that the tool you are using is quiet before shearing them.The Oneisall range uses the latest silent technology to ensure your furry friends have a quiet and comfortable environment while shaving.Also, remember to keep quiet and away from other people while shaving, which will help reduce the anxiety of the dog.
Don't pull their hair!
How can we prevent this?Maintaining the sharpness of the blade is central to solving this problem.In the process of shaving, keeping the knife edge sharp is a very important link.Just like people who cut their hair themselves, a sharp shears can effectively reduce the discomfort caused by pulling the hair hard during the haircut process.Besides, pay attention to sensitive areas like the top of your head and behind your ears.
To slow down
When trimming your pet's fur, don't push too fast or you'll leave streaks.Cutting your dog's nails too fast can also cause discomfort and wiggle.
Follow the direction of hair growth
When shaving your pet, pay attention to the direction in which the hair grows. Unlike us, pets' hair grows in a very special way because it can change the direction of certain parts of the body.Because of this, cutting in the right direction may take some time.Be sure to pay attention to the direction of the hair growth and make sure the cut is smooth, even and matches the existing hair.
conclusion
If you want to save money and take care of your dog on your own schedule, there's no better way than to buy a set of dog scissors that fit both yourself and your furry friend.Even the most expensive scissors investment will soon pay off, and you will enjoy a unique experience with your pet.Why wait? Buy a set of trimmers and start grooming as soon as possible.Not only is it fun and easy, but it's also a proven money-saver.
Q&A
How much does it cost to take your pet out for a shaving?
It depends on the size of your pet. A small one costs about $30, a big one can cost at least $100, so shaving your pet by yourself is a good option.
How often should I brush my pet?
It depends on the type of pets you have and the length of its hair. So, if your pet has long, unkempt hair, he needs a shower and a haircut every two weeks. Remember, pets' hair is just their furry coat, they don't trim themselves. And carefully remember to observe the hygiene of your pet's fur, you can use the best pet odor remover to clean it.
Can I trim my pet's long hair?
Pet shears novice kits usually include clippers, so use it first, then use your pet clippers to finish the trim.
What is the best electric pet scissors?
It depends on your pet and your needs, but for professional pet groomers, they tend to prefer high-end models.But for us, we'd better according to the different character and demand of our pets to choose models, some pets do not care about the noise, but will feel impatient because of time is too long, so we would then select the product that can be quickly cut hair, but some pet care much about sound, so we should choose as far as possible the design of low noise.
Do I need special classes to train my dog?
No, but you have to watch the instructional videos on YouTube or read the instructions on how to use our products.
What is the best clipper to groom a thick-furred pet?
It's the only option. It is more powerful than cordless ones, the professional groomer will choose to use the clippers with cord in most cases.